Shopping Cart
Your Cart is Empty
There was an error with PayPal
Click here to try again
Thank you for your business!
You should be receiving an order confirmation from Paypal shortly.
Exit Shopping Cart
an established co-op of artists and artisans working together
to build a strong art community
Gerrie Govert's art students are participating in an art exhibit at the Hobart Art League. There will be a reception held on Sunday, May 6th, from 2 pm to 4 pm. All are welcome! There will be a wide array of art work on display including: oil, acrylic, pastel, watercolor, colored pencil, and even collage. Meet and greet the students, see their artwork, and enjoy some delicious snacks!
If you cannot attend the opening reception, please feel free to stop by the gallery during regular opearting hours. The gallery is open:
Monday-> 1:00 pm-4:00 pm.
Tuesday-> CLOSED.
Wednesday-> 1:00pm-4:00 pm.
Thursday-> 9:00 am-12:00 pm AND 6:00 pm- 9:00 pm.
Friday-> 10:00 am-1:00 pm.
Saturday-> 9:30 am-11:30 am
If you would like to purchase some artwork, this is a great opportunity!
For more information call (219) 663-4016.
George Millet recently submitted two works to be juried into the Midwest Museum of American Art, and both pieces were accepted for the exhibit. The 33rd Elkhart Juried Regional Art Exhibition, is October 7 - December 4, 2011. This all-media competition is open to artists 18 years and older who are residents of Allen, DeKalb, Elkhart, Fulton, Jasper,Kosciusko, Lake, LaGrange, LaPorte, Marshall, Newton, Noble, Porter, Pulaski, St. Joseph, Starke, Steuben or Whitley counties in Indiana and Berrien, Branch, Cass, or St. Joseph counties in Michigan.
The reception for this event is October 7th at 7 p.m. to 9 p.m. at the Elkhart Museum of American Art. Please keep in mind that Elkhart is on Eastern Standard Time so if you plan to attend adjust your time accordingly. This show is awesome and well worth the trip.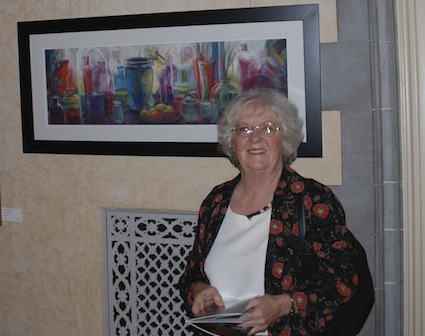 Congratulations to Gerrie Govert for being receiving the Chicago Pastel Painters Golden Artist Colors Award for a piece entitled "Art Glass" at their Third Biennial National Juried Exhibition.  The exhibit is being held at the Mayslake Peabody Estate in Oakbrook, Illinois though October 28, 2011.  Gerrie had three painting accepted into the show, which features the work of artists from twenty states.
18 Artist member Gerrie Govert has been one busy lady.  Recently she had an exhibit of her students' art work at the South Shore Gallery in Crown Point.  The opening was well attended and the students had a great time.  
She also currently has a work "Round and Round we Go" accepted into the 87th Annual Hoosier Salon Exhibit at the Indiana State Museum, and a piece titled "Afternoon Pleasure" at the Illiana exhibit at the Chesterton Art Gallery.
And coming up, Gerrie will be showing at the Chicago Pastel Painters National Juried Exhibition.  For this show, three pieces of her work will be at the Mayslake Peabody Estate in Oak Brook, Illinois from September 15th through October 28th.  The opening reception will be on September 22nd, from 7 to 9 p.m.
Congratulations and good luck to Gerrie, and please feel free to stop by any of these locations to see her work.
The Vogt Visual Arts Center in Tinley Park, IL will be hosting Art Springs Eternal, a show of work by 18 Artists members, running from May 3 - 27, 2011. 
A reception will be held on Saturday, May 7th from 2 - 5 pm.  Please stop by to view our work and to speak with the artists.  Many works will be available to view and purchase, including sculpture, watercolors, oils, jewelry, and more.

Vogt Visual Arts Center

17420 S 67th Ct

Tinley Park   IL   60477






Hours of Operation:
Tuesday  7 - 9 pm; Wednesday   4 - 7 pm; Thursday 11am - 2pm & 7 - 9 pm;   Friday 11am - 3pm
all other times by appointment
/