Shopping Cart
Your Cart is Empty
There was an error with PayPal
Click here to try again
Thank you for your business!
You should be receiving an order confirmation from Paypal shortly.
Exit Shopping Cart
an established co-op of artists and artisans working together
to build a strong art community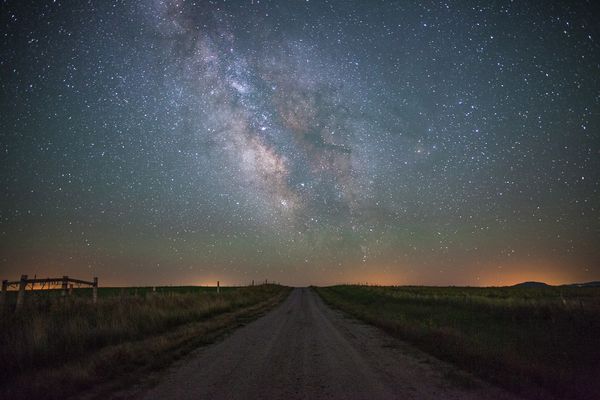 We are very pleased to announce that Eric Hines has placed 5th in the National Geographic Best Night-Sky Pictures of 2012.
From the National Geographic website:
A country road in Wyoming parallels the band of the Milky Way in a summertime shot by photographer Eric Hines. "Spending the nights under the stars in some of the most remote places in the U.S. is what keeps me going," Hines said in an email.
In general, TWAN founder Tafreshi said, "in Earth-and-sky photography we capture things which are mostly visible to unaided eyes, and the main effort is to show what was experienced by the eyes of photographer at the scene.
"I'm very pleased that our highly experienced judging team in the 2012 contest voted for more natural-looking images."
To view the original article, click here.
On Saturday, October 15th, the Hobart Art League held their 5th Annual Juried Art Exhibit.  Congratulations to our members Gina Femrite, Gerrie Govert, Beverley Topa and George Millet for their recent awards received.  The following is a complete list of prizes awarded:
Best of Show: Janet Sturgill - "A Day at the Dunes"
First Place: Gina Femrite - "Gala at the Baker Mansion"
Second Place: John Sowles - "The Scribe"
Third Place: Gerrie Govert - "After School Practice"
Honorable Mention: Kathleen McQuillan - "In the Shade"
Honorable Mention: Laurie Baumgart - "Shadow"
Honorable Mention: Beverley Topa - "Magdalene"
Merit Award: Gerrie Govert - "Washington Island"
Merit Award: George Millet - "Fisherman at Dusk"
George Millet recently submitted two works to be juried into the Midwest Museum of American Art, and both pieces were accepted for the exhibit. The 33rd Elkhart Juried Regional Art Exhibition, is October 7 - December 4, 2011. This all-media competition is open to artists 18 years and older who are residents of Allen, DeKalb, Elkhart, Fulton, Jasper,Kosciusko, Lake, LaGrange, LaPorte, Marshall, Newton, Noble, Porter, Pulaski, St. Joseph, Starke, Steuben or Whitley counties in Indiana and Berrien, Branch, Cass, or St. Joseph counties in Michigan.
The reception for this event is October 7th at 7 p.m. to 9 p.m. at the Elkhart Museum of American Art. Please keep in mind that Elkhart is on Eastern Standard Time so if you plan to attend adjust your time accordingly. This show is awesome and well worth the trip.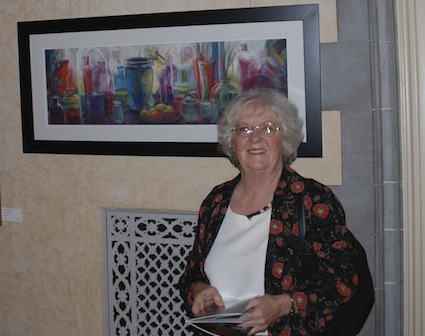 Congratulations to Gerrie Govert for being receiving the Chicago Pastel Painters Golden Artist Colors Award for a piece entitled "Art Glass" at their Third Biennial National Juried Exhibition.  The exhibit is being held at the Mayslake Peabody Estate in Oakbrook, Illinois though October 28, 2011.  Gerrie had three painting accepted into the show, which features the work of artists from twenty states.
18Artists would like to officially welcome two new members to our group.  George Millet, who works in watercolor, and Marji Mollberg, a photographer, have recently juried into 18Artists.  Their work and biographies will be available to view soon.  Feel free to stop by our rotating show at Raymond James & Associates in Valparaiso to view their work.
/